Dentures in Alpharetta, Atlanta, Lilburn and Marietta, GA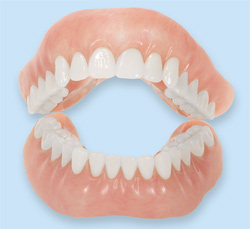 Dentistry is all about smiles, and having a confident, healthy, beautiful smile is important even for patients wearing dentures. Doctors Sha-Vashtiy Z. Young-Ufeli, Kimberlyn Atherton, Mehran Payandeh, Deepal Patel and Daniel Choi provide personalized denture services that meet the needs of patients throughout Lilburn. All of our patients are unique and we create one-of-a-kind dentures that feel good and look natural.
The dentists at Polish Dental Center take the time and care to assess each patient and make sure dentures are the right choice. We provide a clean and calming environment to maximize a comfortable experience.
What are dentures?
A person may be interested in dentures to replace missing teeth. This could be to maintain the aesthetics of a smile and shape of the face, reduce pressure on other teeth, reduce jaw-related problems, and also help with hygiene. Dentures are a low-cost alternative to some patients over implants or bridges. After your consultation, you will be given all the information you need to make the right choice.
Getting dentures in Lilburn is a process that can take several weeks. Doctors Sha-Vashtiy Z. Young-Ufeli, and Kimberlyn Atherton will first make an impression of your mouth and take measurements of your jaw, sending it all to a lab where your dentures will be created. You'll return to our Lilburn/Atlanta/Alpharetta office a few times after you've received your dentures so we can make any necessary fit adjustments.
Types of Dentures
Full dentures are given to patients when all of the natural teeth have been removed. Conventional full dentures are placed after the gum tissue has healed, which can take several months. Immediate full dentures are placed immediately after the teeth have been removed and may require frequent adjustments during the first couple of months of use.
Partial dentures are attached to a metal frame that is connected to your natural teeth and are used to fill in where permanent teeth have been removed. Partial dentures are considered a removable alternative to bridges.
How do I know if dentures are the right choice for me?
Dentures are not for everyone. If you're interested in learning more about dentures and want to know if they are the right choice for you, please schedule an appointment at our Lilburn, GA, Alpharetta, GA or Atlanta, GA dental office. Our dentists and team will be happy to answer any questions you might have, and can determine the best course of treatment for your ongoing dental health.
Caring for Your Dentures
Dentures, just like natural teeth, require daily maintenance to stay clean and keep bacteria from growing inside of your mouth.
Use a gentle cleanser to clean your dentures. A mild hand soap or dish soap works well. Dentures also must be kept moist at all times. When not wearing them, place them in soaking solution. Brush dentures with a denture brush to prevent plaque and tartar build up. Also, remember to continue scheduling regular dental checkups every six months to make sure that your smile stays healthy for many years to come.
If by chance your dentures do break, please contact Polish Dental Center and schedule an appointment as soon as possible. Broken dentures that don't fit properly can cause irritation to your gums and mouth.
Schedule an Appointment Today!
Contact our Alpharetta, Atlanta, Lilburn and Marietta, GA dental offices today to schedule an appointment with Doctors Sha-Vashtiy Z. Young-Ufeli, and Kimberlyn Atherton, and Mehran Payandeh for a personalized design for dentures.